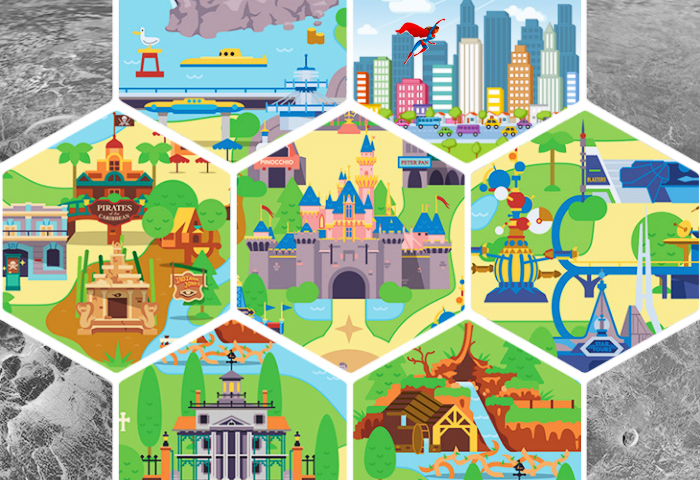 Disney Moon
is the largest theme park in the Penglai system, located in orbit around the capital of the Alliance and heart of human civilization,
Babylon
. Divided into seven themed zones, there's entertainment and adventure for all audiences! A bullet train hover monorail links the entire park, allowing guests to travel between regions and to the resorts within minutes. In addition to thrilling rides and shows, there's plenty of and shop for the perfect souvenir from a memorable vacation.
HISTORY
Rights to develop on the moon were acquired by The Walt Disney Conglomerate in 2255, though plans to terraform the empty moon were not enacted until 2482. The process was halted by the Independence War, but resumed in 2509. The first zone of the park was opened to the public on July 17, 2555 - the 600th anniversary of Disneyland's opening on ancient Earth.
Accommodations
All ships dock at the
Port of Adventure
section on the north end of the moon, where guests can either pay docking fees to remain on their ships, or reside in one of the four main resorts:
Animal Universe Lodge, with views over the grazing wildlife found throughout Penglai
Disney's Animation Station Resort, live out art-filled fantasies with rooms themed after Disney's animated classics
Grand Floridian Resort, harken back to old Earth's sunny heyday with this Victorian seaside resort
Oceania Resort & Villas, surf the South Seas in the longhouse-style hotel and private villas.
adventureland
Adventure is out there! And right here, with ancient ruins to explore, pirates to capture, yees to haw, and fiery volcanoes to escape! Climb into your rover to see Indiana Jones and the Forbidden Eye, and keep your arms and legs inside the Galaxy Ju'ungle Cruise boat. Minutes away from the tropics, you can enter the Old (Old x10) Wild West of Frontierland and get into shootout, or journey to the desert oasis of Agrabah on a magic carpet ride.
ATTRACTIONS
Volcania: An open-explore playground for children and adults alike, with treehouses to discover, hidden secrets in the temples, and a volcano just waiting to erupt!
The Enchanted Ti'i''i'i'ii'i'ki'i''i'i'ii'i' Room: A menagerie of melodies, sung by advanced animatronic birds and their floral and tribal friends.
Pirates of the Caribbean: You know what it is.
Big Thunder Mountain: Race through a haunted asteroid mine aboard a speeding spacetrain on a thrilling coaster ride.
DINING OPTIONS
Tortuga Tavern: A pirate-themed quick-service taco bar
Skipper's Canteen: An adventurer's club-themed restaurant with Caribbean inspired dishes, and interactive animatronics
Golden Horseshoe Saloon: A sit-down restaurant and bar serving hearty, rustic Southwestern American grub
Snack hovercarts: Turkey legs, churros, frozen lemonade, popcorn, pretzels, and more!
atlantis
Journey down where it's wetter for a whale of a time, exploring the undersea adventures of Ariel, Nemo and Dory, and Moana! Ride Maui's Rockin' Raft for big thrills, or slow it down with lazy days at Crush's Turtle Talk. The terraformed 'ocean' is the largest man-made body of water in Penglai, featuring thousands of aquatic plant and animal species bred from cryo-preserved genetic samples carried from ancient Earth.
ATTRACTIONS
Seven Seas Lagoon Aquarium: Third largest in the solar system, with strange and wondrous creatures
Eighth Wonder Expedition: A dive into the ocean planet of Atlantis to find the lost continent, and hopefully no monsters!
Submarine Voyage: Take an immersive ride in a submersible for a close encounter with your favorite marine animals
Ursula Rises Again: A musical stage show, based on ancient classic The Little Mermaid
DINING OPTIONS
Fish R Friends – Not Food! Quick-service salad and vegetarian options
Triton's Treasure Trove: Serving frozen cocktails, seafood appetizers, and a sushi bar
Snack hovercarts
BIG COUNTRY SPLASHDOWN
Cool down with the bare necessities at this backcountry-themed water park, complete with a 5-story log-flume ride (Splash Mountain), the tallest water slides on the moon (Summit Plummet), a spin around the whitewater river rapids, winding lazy river, and splash zones for the littlest cubs. Guests wishing to remain dry are encouraged to bring a waterproof poncho, extra clothes or a towel, and lockers are provided at every attraction entrance.
fantasyland
Whether you're a princess or a pooh bear, there's a story waiting for you here, with magical creatures, fairytale romances and an enchanted forest to discover. Ride a unicorn on the Royal Carousel or catch the runaway Seven Red Dwarves Mine Spacetrain. The centerpiece of the zone is the iconic landmark castle, which puts on a spectacular lightshow every night at sunset. Make a wish in the enchanted well, and your dreams may come true!
ATTRACTIONS
Cinderella's Castle: Meet and greet your favorite princesses in the castle courtyard. Then go below the signature structure to find a series of dungeons and treasures, all leading to one scary surprise!
Enchanted Forest: Dive into the darkness of the enchanted forest, and you might come across a witch's hut, a bridge with a troll, or a princess's tower!
It's A Small Universe: Sing along to the classic anthem of intergalactic peace during a musical hoverboat tour. A 10-minute journey takes you through all 10 planets of Penglai, representing the iconic sights and sounds of each world. Updated in 2652, the ride now includes animatronics of several alien allies made after the Gateway was opened!
DINING OPTIONS
Merida's Highland Table: Character meet and greet sit-down restaurant, serving up medieval-inspired fare
Gaston's Tavern: A rustic eatery, serving French-style pastries, sandwiches and frozen cocktails
Snack hovercarts
N'AWL'INS
Mosey on down the Big Dipper River to a big easy afternoon with live music on the corners, and a carnival of fun at every door. Tap your toes at the Country Bear Ja'amboree, or take a tour through one of the three spooky estates filled to the brim with spirits. Each house is an exact replica of the original structures from the various Disney parks on Earth. For the biggest thrills and chills, the best time to visit is in the autumn season.
ATTRACTIONS
Haunted Mansion: 999 happy haunts, but room for 1,000. Any volunteers?
Mystic Manor: Ghosts are present practicing their ghoulish delight.
Phantom Manor: Grim grinning ghosts come out to socialize!
Tower of Terror: Step aboard a rickety elevator lift in the haunted Hotel that sends you plummeting through a portal to another dimension...The Twilight Zone!
DINING OPTIONS
Tiana's Palace: A luxurious sit-down restaurant serving Cajun inspired cuisine, with a jazz band of crocs, bears, and lions
Café Orleans: Beignets and coffee quick-service cafe with outdoor seating that overlooks the river
Snack hovercarts
tomorrowland
A retro futureland showcasing the promises of tomorrow, explore the technical advances planned by our ancestors. Learn about the history of human space travel from the first launch to the discovery of FTL travel in MISSION: Space. Or hop on the TRON 3000 Lightcycle Power Run before grabbing a bite at Pizza Planet. The newest park addition looks ahead to wonders found beyond the Gateway, featuring exotic specimens from distant worlds.
ATTRACTIONS
Buzz Lightyear Astro Blasters: An interactive shooting ride to defeat the evil Emperor Zurg
Hyperspace Mountain: A high-flying mag-train coaster that eschews gravity and physics!
Martian Racers: Now this is podracing! Grab a pod for this 4D simulator thrill ride across the red sands of Mars
Asteroid Orbiter: Board a retro rocketship and fly among a galaxy of planets while the sights and sounds of Tomorrowland whirl by far below
DINING OPTIONS
The Sarlacc Spit: An exotic meats kebab quick-service restaurant
Pizza Planet: Fuel up on out-of-this-world fast fare like breadsticks, pizza, salad and slushies
Snack hovercarts
SAN FRANSOKYO
Live your big hero dreams in the big city surrounded by superheroes like Commander Quantum and Titanium Lady. Suit up and save the day in Spider-Man 2699's Swingin' Spin! Or take an alternate path and get recruited by the Evil League of Evil to sow chaos on the streets. Both sides can participate in the Big Hero Sixty Scavenger Hunt. Costumed cast members who always stay in character make this the most immersive experience yet.
ATTRACTIONS
Champion Conservatory: Get trained by the galaxy's toughest superheroes in this interactive 4D VR simulation, where you get to feel as powerful as a neurogenic and take on the baddest villains
The Incredibles! Family Day Out: Live-action stunt show, loaded with special effects and pyrotechnics
Quantum Realm Rescue: Shrink down to subatomic size and take a ride through the Quantum Tunnel to rescue a legendary hero lost in another dimension
DINING OPTIONS
Frozone's Froze-Zone: Ice cream treats, including sundaes, shakes, sandwiches, and slushies
Bay-Mex: A quick-service Japanese-Mexican fusion restaurant, where all the servers are helpful robots
Noodle Burger: Enjoy fast food fare, like burgers with ramen buns, and french fries topped with Japanese sauces
Snack hovercarts